Celebrating Houston's Women of Wine
September 18, 2019 07:00 PM until September 18, 2019 07:00 PM
A special Dinner with Iron Sommelier Julie Dalton
Wednesday, September 18, 7pm
Houston's wine scene is incredible and it's not just the options in the bottle. Our city is bursting with talented wine professionals. We have 6 Master Sommeliers residing here, with even more on the horizon. Historically, the Sommelier community has been more of a boys club, but Houston is helping change that. We are awash with amazing women overseeing programs at the city's best restaurants, wine shops, clubs and distributors. We want to celebrate and introduce you to some of these exceptional professionals on September 18th at Backstreet Cafe.
Leading us on this wonderful night of food and wine will be the 2018 Iron Sommelier Julie Dalton of Maestros. Julie is as good as it gets. She has tremendous knowledge and a superb palate, but is also one of the most approachable and charming wine guides you'll meet. She is what we wish for in a Sommelier and she has selected a wonderful array of wines to share with Chef Hugo's cuisine. In addition to Julie, several other talented women from the Houston wine community will join us. You couldn't ask for a better evening of wonderful food and exciting wines!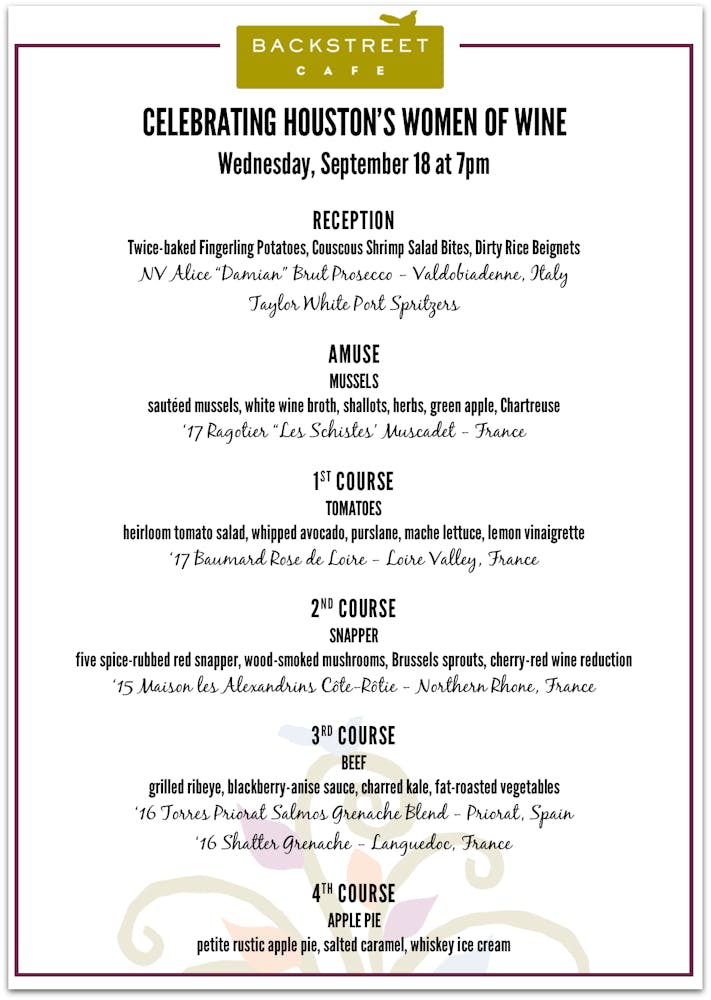 $105 per person plus tax and 20% gratuity
Limited Seating
Click HERE to purchase tickets!